WELCOME TO
Leading Ladies Networking
We kicked-off another fall event with a sold-out crowd! Thank you to our official photographer Chantal Routhier who captured of all of the magic at our amazing event in September 2019. *Scroll down for photo gallery!
Thank you to our featured Wing Women:
Jennifer Kurmey, Mrugakshee Palwe, Cielo Zhang and Tina Prinsenberg 
We are so proud of our Wing Woman program which brings an extra special element to the networking experience; a safe place to land if you shift conversations and find yourself conversation-less, your networking 'safety net'. You get the opportunity to connect and get some bonus consultation time with these extraordinary women.
We were beyond happy when the one and only Veuve Clicquot champagne came on board to sponsor our giveaway and prizes – Kayla McCoy was the exuberent winner of an overnight tote bag, branded scarves and envy-enducing picnic set of champagne flutes!
As always, a special thank you to Maclean Smith and Chelsea Jane who greet everyone with a warm smile, making them feel so welcome. 
If you're not already, make sure you're part of our network: http://bit.ly/leadingladieslist 
Thank you to our rockstar venue: Lot Six Bar & Restaurant. We are obsessed with your incredible cocktails and hor's doeuvres *especially our featured drink, the Aperitivo Spritz* the perfect way to celebrate with our business besties!!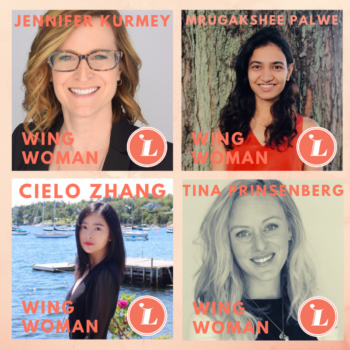 *Make sure you plan on joining us for our November event and then you're invited to stay after for food and drinks. We'll be dining in the Atrium, so plan on joining us – and stay tuned to hear who our October Wing Women are – you won't want to miss the opportunity to network with these powerhouse women!!
Want to book your next event, hot date or business-besties-night-out at Lot Six? Click here. 
Menna knows first-hand that networking is the #1 way to drive referrals and new clients to your door.
Acquiring new clients is more complex and costly than ever and therefore making sure you're networking effectively is more important than ever. 
Book Menna to do a presentation, lunch & learn or be a guest speaker at your next conference, visit our speaking page and email your inquiry.
Did you make a fabulous new connection? Land a new client? Make a new BFF? We'd love to hear about it – please share your success stories here and you could be featured in a future testimonial!
Feel free to share and please tag: Leading Ladies Networking, Menna Riley, Chantal Routhier Photography & Lot Six – plus everyone you know in the photos! #leadingladiesnetworking #happynetworking #leadingladieshq #collaborationovercompetition