WELCOME BACK!
It's been almost two years to the day since the last Leading Ladies event took place pre-pandemic, and our revival event did NOT disappoint!
The atmosphere was electric! You could tell everyone was thrilled to have their favourite networking event back in action. 
Check out all our sponsors, Wing Women and fabulous photos below…
OUR SPONSORS
Our sponsors took this event to the next level!
We work hard to keep our events from feeling 'salesy' and only endorse companies, services, and products that we believe adds to our event and our guest's quality experience.
Please be sure to check out our event sponsors:
DOOR PRIZES
When it came time to draw names of ticket holders for the sponsored prizes, I had to call on Board Advisor and Wing Woman Nicole Myles Brook for backup!
Our event prize sponsors took the cake with a night's stay at the beautiful Sutton Place Hotel Halifax, $500 gift card at Charm Diamonds, an Executive Coaching Session with Jennifer Warrington of The Fusion Group, two beautiful bouquets of flowers from Blossom Shops (they also went above and beyond gifting each guest with a long stem rose), a Therabody bluetooth workout roller from Tara MacDonald of eWomenNetwork, and $500 SEO coaching session with Alison K Consulting!
WING WOMEN
We couldn't be more proud to showcase our event's Wing Women: Caitlyn Hamblin of @cait_collabs, Jenny Ward of Jenny Ward Careers, Danielle King of Betty's at the Kitch and Nicole Myles Brook of Big Erics!
Wing Women add an extra special element to the networking experience, a welcoming smile and safe place to land if you need it. They're here for you at each event to put the 'safety net' in networking. They are all EXPERTS in their field, so you get to take advantage of the chance to connect and get some complimentary consultation time.
Want to be a featured future Wing Woman, or know someone who you'd think would make the perfect networking partner? Apply here: Wing Woman Application.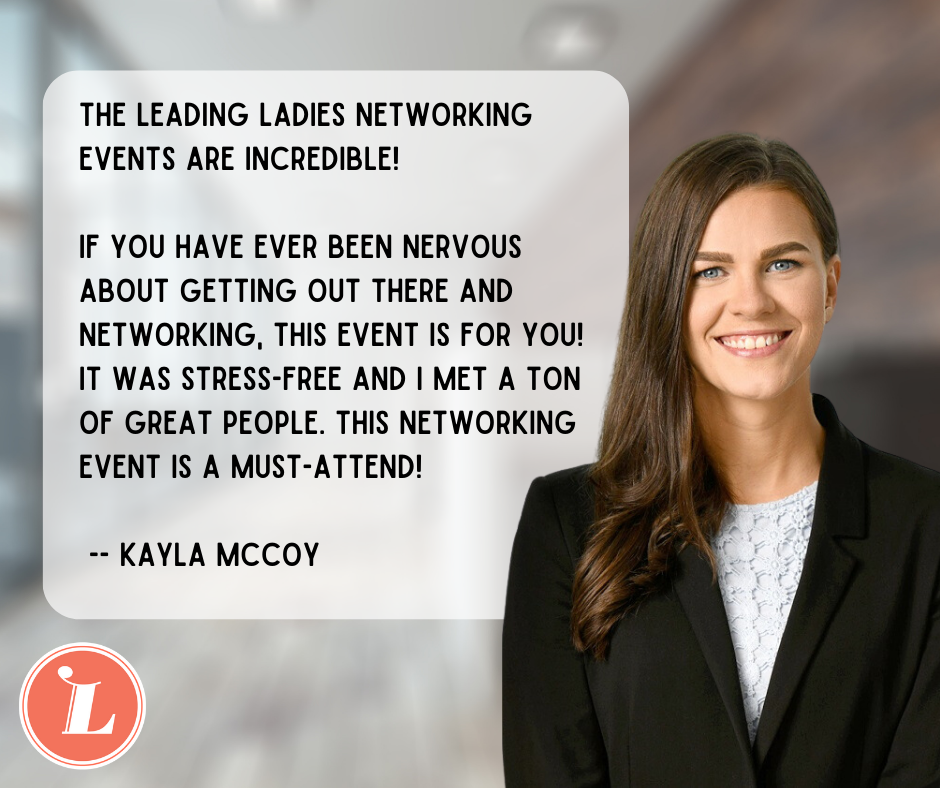 TESTIMONIALS
Did you make a fabulous new connection? Land a new client? Make a new BFF? We want to hear your networking success stories!! 
Please share your success stories here and you could be featured in a future testimonial!!
PHOTOS
Our official photographer Chantal Routhier was on hand to capture all the networking magic as you will see by our photos below. If you're looking for private event, wedding or professional head shots that are sure to wow, visit her website and book today.
Feel free to share and please tag: Leading Ladies Networking, Menna Riley, Chantal Routhier Photography & Lot Six – plus everyone you know in the photos and show some love to our sponsors (especially if you won one of their fabulous prizes)!!
#leadingladiesnetworking #happynetworking #leadingladieshq #collaborationovercompetition